About Victory Tools, Inc.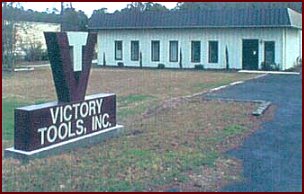 Victory Tools, Inc., incorporated in 1995, is a privately-held corporation specializing in tools, 3 Axis Milling - 4 Axis Wire E.D.M and dies for the tubing industry. Using the latest technology, Victory provides replacement cut-off jaws and blades for a number of tube mills and re-cuts as well as made-to-order tubing fabrication dies to pierce, trim, form and flatten tubes. We're always coming out with new products so please visit our Products page to see our complete capabilities and to request a quote or place an order online. And you can always call us at: 1-888-566-9250.
Over 30 Years of Combined Experience in Tool & Jaw Making! Our goal is to reduce your tooling costs by 10%-20%...
Let Us Show You How!
Principles
Jim Watson - President
The founder of Victory Tools obtained his classification of Certified Tool and Die Maker in 1963. Previously, Jim was Plant Manager for Haven Manufacturing in Brunswick, GA and was employed by Haven for over 25 years.
---
Chris Watson - Vice-President
Chris heads the CNC Department and comes to Victory with a Bachelor of Science in Computer Science & Mathematics from Cumberland College. Chris also worked at Haven Manufacturing, with his father as Head of CNC Department and has over 5 years of operating, programming and production experience.
---
Lori Watson - Sales Manager
Since joining Victory, Lori has put her 11 years of previous sales experience to excellent use. She has built strong relationships with victory customers through exemplary customer service and knowledge of the industry. Lori has worked wit many new clients and is looking forward to learning about your needs in order to find the most cost effective solution for you tooling requirements. Call, e-mail or send in a Request For Quote and Lori will contact you immediately.